Who We Are
Our mission is to provide essential, quality pre-hospital emergency medical care and transport. We are a team of dedicated individuals serving our neighbors in times of need.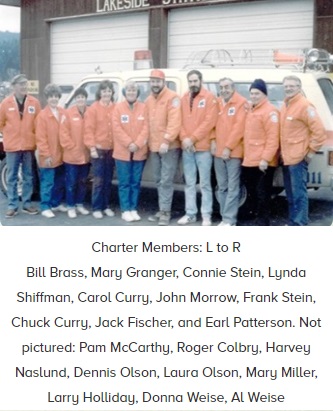 The Lakeside QRU was founded in 1981 as the Upper West Shore Quick Response Unit by a group of citizens who realized the response time for aid to arrive to the West Shore communities from Kalispell was too long. These charter QRU volunteers responded to emergencies from their homes and work places providing basic life support until advance support arrived. As the need for services grew, so did the QRU. The organization acquired a van style ambulance in 1994 to transport responders and vital equipment, and in 2006 received the additional training and licensure needed to commence transporting patients as well.
The Somers Fire District generously shared their satellite facility in Lakeside with the QRU until 2009 when Al and Cora Luna kick-started a QRU building campaign by contributing 2 acres of land to be used for a new QRU facility. The QRU Community Building was completed in 2012 as a result of overwhelming community financial support.
The Lakeside QRU is dispatched approximately 800 times each year serving a geographic area from Rollins to South Kalispell. The organization is licensed to respond to Basic Life Support as well as Advanced Life Support emergencies. Approximately 56% of the calls are medical emergencies and 20% are motor vehicle accidents. 62% of the dispatched calls result in a transport to the hospital.
For over 41 years, the QRU has attracted highly trained Emergency Medical Service personnel who collectively contribute thousands of hours each year to provide assistance to the communities in which they serve.