QRU Training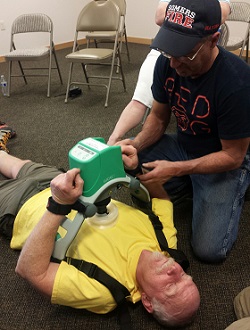 The Lakeside QRU is committed to providing the community with highly qualified and trained volunteers. The ever-changing nature of healthcare, emergency service protocols, and technology requires the QRU to continuously provide its responding volunteers with relevant and up to date training and educational opportunities. Therefore we offer an in-house training schedule that fulfills the continuing education requirements of licensure at no cost to QRU personnel.
At a minimum all licensed Lakeside QRU responding volunteers are required to:
fulfill the continuing education requirements to maintain their State of Montana emergency care licensure and,
complete a Refresher and,
remain current on CPR certification.
The Lakeside QRU schedules 22 training sessions each year equating to 30 hours of continuing education credit hours and will offer CPR and refresher courses as needed.
Each responder of the QRU must maintain a high level of knowledge and understanding of our policies, procedures and the skills and abilities of other volunteers. Attending regular meetings, participating in unit training programs and maintaining contact with other volunteers at these meetings is the preferred method of achieving this level of communication and understanding.
In addition to the in-house training opportunities, volunteers are encouraged to participate in independent training opportunities to enhance their skills and add diversity and expertise to the organization and the QRU may pay for this out-of-house training.
The Lakeside QRU reimburses its responding members for the ongoing cost of renewing their licenses.
Read more about becoming a Lakeside QRU Volunteer.